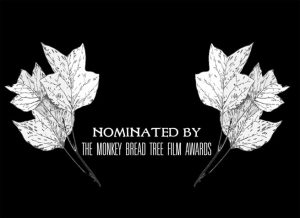 Best Short Film made for less than $5,000
Best Genre Piece of the Season (all budgets)
Best Actor (all budgets) – Cameron Moir 

"Angelito in Your Eye" has received three film award festival nominations from the London-based The Monkey Bread Tree Film Awards in their Spring, 2016 film awards competition. The directorial debut of writer/director Judy Sandra, the short film previously has been nominated for the Los Angeles Independent Film Festival Awards, February 2016 for Best Short Film Comedy/Dramedy and the Women's Only Entertainment Film awards, April 2016 for Best Short Comedy. 
For The Monkey Bread Tree Film Awards, which includes feature films and short films, "Angelito in Your Eye" was entered in the category of Short Films with a budget of under $5,000. This competition is unique in that films are judged and categorized not only by their genre but also their overall budgets. 
According to the film award directors, "The Monkey Bread Tree Film Awards is an awards body dedicated to independent film. With competitions every quarter and a changing judge panel of film critics, actors and filmmakers working within the industry, we dedicate ourselves to awarding films based on their originality and creativity, whilst considering their budget restrictions.  We consider production limitations as part of what allows us to judge your creativity and originality. In our opinion, an independent film shot for a shoestring budget should not need to compete with one produced on a larger independent budget for the best prize."
The nominations for "Angeltio in Your Eye" are:
Best Short Film made for less than $5,000
Best Genre Piece of the Season
Best Actor – Cameron Moir
In the Best Genre Piece and Best Actor categories, all budgets are considered equally, so we're quite proud of this achievement.
"Angelito in Your Eye" Receives Three More Film Award Nominations: The Monkey Bread Tree Film Awards, Spring 2016