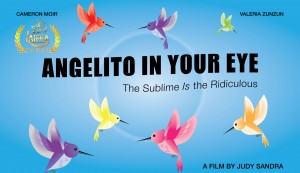 Screenwriter and Producer Judy Sandra makes her directorial debut with the short film "Angelito in Your Eye". The film was shot on location in Los Angeles and stars actors Cameron Moir and Valeria Zunzun.
Judy calls the genre "a surreal comedy". The story follows one man's journey to inner peace that is riddled with mayhem, madness, and magic. Sometimes the sublime is the ridiculous.  Read more about "Angelito in Your Eye here.
"Angelito in Your Eye" was an Official Selection of the  February, 2016 Los Angeles Independent Film Festival Awards (LAIFFA), nominated in the category of Best Comedy/Dramedy Short. 
Please join the Facebook page for updates on film progress: https://facebook.com/JudySandraDirector  
Writer / Producer Judy Sandra's Directorial Debut